As I said in
this post
, I love to read. I am so happy that my children have also inherited the love of books. We use them for entertainment, as a way to unwind and get ready for bed, and sometimes as a preparation tool for something that is coming up in their lives. Neither of my boys used to be very good about going to to the doctor, but then I got them several books about characters that they know having doctor's appointments and it made our appointments so much easier. I am grateful that they both buy into the lessons and stories that the books we read provide. Recently, Braeden has been talking a lot about good food versus junk food because of the Berenstain Bears book,
Too Much Junk Food
. I'm so glad that it's made an impression and that he understands the difference between foods that are good for him and those that he can have as a treat. I find it so interesting to see what they take from the books that we read and how they use it in their lives. Here are some of my kids favorite books.
The Berenstain Bears
Even though Braeden is the one who walks around preaching about what these books say, Evan is the reason we have so many. He loves the Berenstain Bears, especially The Sitter which was my favorite as a kid too. I limit him to 5 a night because otherwise we'd be reading for an hour. All of their books are good and are meant to teach lessons that are relevant in kids lives. From Clean House to The Trouble with Teasing, these books are great for all ages.
Curious George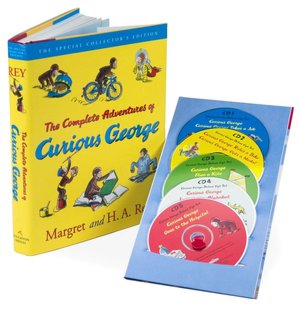 We love Curious George in our house. We have the set above that also came with the CD's. It's nice because the boys sometimes like to listen to stories as they fall asleep. I think Braeden's favorite George story is Curious George Goes to the Hospital, although, Curious George Rides a Bike is a very close second.
If You Give A Mouse A Cookie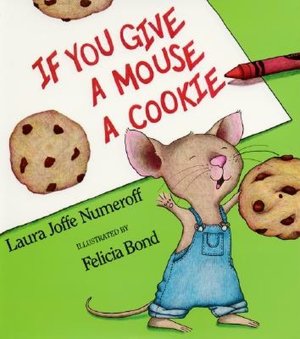 I must admit, Laura Numeroff writes some catchy books. I wasn't actually familiar with her stories until Braeden read If You Give A Mouse A Cookie at school last year. From there, we grew quite the collection. Evan is the biggest fan of this series in our house and for a long time, he had to listen to "The Cookies" every night before he went to bed. We have this on CD too.
The Magic Tree House Series
When I was looking for something a little bit older to read to Braeden, I decided to start the Magic Tree House Series. My nephew Jacob had always loved them and I thought Braeden probably would too. We began with the first four books of the series and then B started bringing random numbers home from the school library so we have been reading some of them out of order. His favorite by far was Tonight on the Titanic. This book is what peeked his interest in The Titanic and we've read many other books about The Titanic and visited the exhibit at Mystic as a result.
I'm so glad that my kids love reading. Some nights I'm tired and I don't really feel like it, but I would never give up that time that I get to snuggle with them and indulge in great children's literature. I hope they maintain their love of reading, whether it be paper books or more likely e-books throughout their entire lives. If anyone has suggestions about the books you read with your kids, we'd be glad to hear them. I am always happy to add to our library.