I love to read. I have been an avid reader since I was a child reading the Babysitter's Club. I couldn't get enough of those books and waited eagerly each time a new one was being released. I would spend every Wednesday afternoon at the local library looking through books and deciding which ones to read that week. I remember getting so excited when I was old enough to move on to the Sweet Valley High series.
While I don't have nearly the same amount of time to read anymore, I still value books a great deal and read whenever I get a chance. I have always tended to read more fiction than non-fiction, but in the last few years I've found some really fascinating people whose books are interesting, entertaining, and sometimes, as in the case of Angie Smith, very inspiring.
What I've read recently:
What Women Fear - by Angie Smith
This book was life-changing for me. Angie is a real woman with real problems and a very similar past of fear and anxiety to my own. She spent much of her childhood with cares and worries that should not burden a child. I can so relate. This book is based in Christianity and the love that God has for us all. It may not be for everyone, but it is probably one of the best books I have ever read. I am so grateful to Angie for helping me to find a way to deal with my insecurities and anxiety that is powerful, uplifting and very freeing. After all, if God is taking care of it, why should I worry?
The Long Journey Home - by Margaret Robison
This book is most relevant to those who are familiar with
Running With Scissors
and any other books by Augusten Burroughs. His brother, John Elder Robison also wrote a book about their life from his perspective, including finally realizing that he has Asperger's Syndrome. Margaret Robison is Chris Robison's (Augusten Burroughs) and John Elder Robison's mother and it's so interesting because it is her story of how she became the woman that they describe in their books. While she defends herself saying that of course, she wasn't as bad as Chris describes her, she certainly wasn't, and probably still isn't, all there. I'm not quite to the end, but I'm enjoying learning more about the mother in this bizarre family. I also love that she eventually ended up in Western Massachusetts raising her boys. It's a good read if you are familiar with the books by her sons. Otherwise, it wouldn't really mean much except for an unknown woman recounting her bizarre and troubled life.
Mini-Shopaholic - by Sophie Kinsella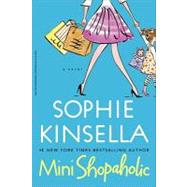 This book is the latest in perhaps my favorite book series of all time. I can't get enough chick-lit that is set in England. From the first moment I was introduced to Becky in Confessions of a Shopaholic, I was completely hooked. The trials and constant missteps that poor Becky continues to put herself through never cease to entertain me. I will undoubtedly finish any Sophie Kinsella book in one week or less. I end up staying up way too late reading them, but I can't help it. She also writes under her own name (SK is her pen name), Madeleine Wickham, but I don't like those books as much. If you haven't read the Shopaholic series, but have seen the movie, don't judge! I didn't even watch the whole movie because it was so different than the book.
If anyone has any recommendations for me, I'd love to hear about them. Happy Reading!